main page
myxos & science
impressions
press & news

Images for press purposes only.
For more images please contact press[at]imachination.net.

Pixelsex animated the world's largest light wall at the KPN Tower in Rotterdam built by Renzo Piano. Different views from the bottom . 2005
Jpg, each 1224x1623 pixels, (301/260/301 Kb)
pictures: Tim Otto Roth
Further pictures by Jan Sprij on the V2 website:
one page pdf-summary of the presentation at KPN Tower Rotterdam [NL], Witte de Witt Festival (with V2) Sept. 05 and parallel to Art Rotterdam '06, 16-20 February.
For more information about Tim Otto Roth's projects (press feedback, image database, cv or contact) please have look at his main press and news site on: www.imachination.net

---
Pixelsex related news
19 October 2013
Acoustic Pixelsex – about the self-organization of sound, presentation and panal discussion in the occasion of the exhibition Urban Sounds, Haus für elektronische Künste, Basel (CH)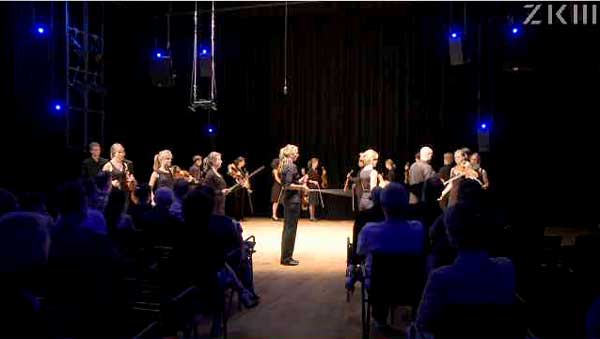 16 July 2011
Première of the composition "Verschränkung" for 20 string players in occasion of the symposium "Molecular Aesthetics", ZKM Karlsruhe (D), 19:30.
24 October 2009 - 27 February 2010
Chromology applies the principles of self-organization to colour creating an installation of 25 interacting disco colour wheels. It is presented for the first time in occasion of the large exhibition "Color continuo 1810...2010 - System und Kunst der Farbe" at Altana-Galerie, Dresden (more....)
Autumn 2008: Music of Life - a series of concerts with an autocomposing choire singing according to pixelsex rules. 10/09/2008 Deutsches Hygiene Museum Dresden
02/11/2008 Cynet Art - Festpielhaus Hellerau.
Publications
Roth, Tim Otto; Deutsch, Andreas: Universal synthesizer and window - cellular automata as a new kind of cybernetic images, in: Grau, Oliver; Veigl, Thomas (Ed.): Imagery in the 21st Century, Cambridge/Mass. (MIT Press) September 2011, pp. 269-288.
SEXO DE PIXÉLES interview by Ferenz Jacobs in the special issue 63 "Iluminados" (May 2010) of Lamono Magazine / Barcelona [E].
(p.34-35)
March 07: Issue 29 of the Czech architecture magazine zlatý řez is dealing about media facades. A four page feature presents the Pixelsex project in Rotterdam.(Link to zlatý řez)
Further publications reporting about a former media facade project of Tim Otto Roth in:
Leonardo Volume 39, Issue 1 / February 2006: "A Walk on the Retinas of the Extreme Sciences: A Minimalist Concept for an Internet-Based Light Art Art Façade in Munich"
Pixelsex related talks

18 June 2012
Zwischen Coloursex und Spektralanalyse - wenn Kunst, Kalkül und Wissenschaft aufeinandertreffen, Leonardo-Kolleg der Universität Nürnberg-Erlangen, Schloß Erlangen [D], 18:00.
Thursday, 9 December 2010
"Zelluläre Automaten - wenn der Algorithmus zum Bild wird", guest lecture at the seminary Algorithms, lab III, KHM Academy of Media Arts Cologne,14:00
Thursday, 8 October 2009
"Pixelsex or Cosmic Revelation – how art and science can meet in public space", talk at the Globe of Science and Innovation, CERN, Geneva (CH).
Thuesday, 09 June 2009
"Pixelsex und kosmische Offenbarung: Art & Science - Projekte im öffentlichen Raum", talk at Media Synthesis Lab, Fachhochschule Furtwangen
16-18 October 2008
"Plagiat oder diskrete Karikatur? - Zelluläre Automaten als Bilder ohne Geschichte", at the second international congress, Blick im 21. Jahrhundert - Wider den Analpha-BILD-ismus, Stift Göttweig, Krems [A].

29 July 2008
"Cellular Automata versus Pixelsex: A New Kind of Science – A New Kind of Art?", presentation at the 11th ISSEI Conference - Language and the Scientific Imagination, University of Helsinki[FI]

Further refering links